Rope access services provider for high rise / low raise buildings maintenance, confined space access, tree care, industrial sites inspection and maintenance, wind turbines, air conditioning, Rope access & JIRAA Training and more! 

Clean Force Japan is always aiming at higher safety standards in rope access. We employ only experienced IRATA technicians with extended training in Rope access knowledge in fall arrest gear, procedures, and very high safety awareness.
We perform proper risk assessments for each working location and prepare a rescue plan in case of an emergency.
---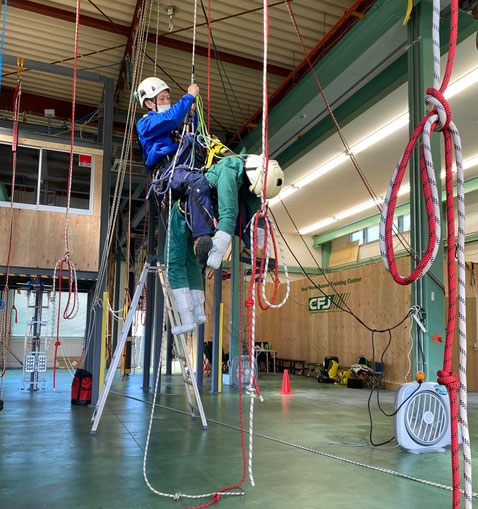 Originally evolved from caving exploration and alpine climbing techniques, rope access is a form of work positioning to access difficult-to-reach locations where the use of scaffolds or other aerial platforms is impossible, unsafe, or just not economically viable.
In modern days industrial rope access has evolved and is now a very safe and cost-efficient system with tools and fall protection equipment that follows EN and/or ANSI standards to provide safety and reliability to the industry.
Rope access personnel have to comply with labor laws for work at heights established in each country to be able to engage in rope access work.
From July 1, 2016, under Japanese domestic law, a technician has to engage in special fall protection training to be able to work at heights.
Those who have not taken this course cannot engage in high-altitude rope access work. 
At our company, we operate under the IRATA system (Industrial Rope Access Trade Association), probably the most recognized and safest rope access standard in the world, as well as the Japanese domestic law.
we do not use mountaineering and sport climbing equipment (sometimes found in conventional Japanese window cleaning companies) but only EN approved PPE, a stricter standard than the Japanese ones.
Full body harness, descent devices with anti-panic and locking functions, automatic follow-up type fall arrest device (backup device), a two-rope system where mainline and back up line are separated and have different anchor points to guarantee redundancy in case of failure, Slings, and connectors used are rated for 22KN or more while the rope in use is a modern kernmantle semi-static rope usually 11mm in diameter which has exceptional strength with an average maximum static load in between 28KN and 30KN. (1KN = 100Kg)
Nylon products are operated at 1/10 of the breaking strength while metal (steel & aluminum) products are operated at 1/5 of the breaking strength, in this way we always maintain a safe working load on all the components of our fall arrest/fall protection systems.
All the Clean force Japan equipment is registered via serial number to ensure traceability in our system and with the manufacturer.
Materials are always inspected before work and are thoroughly inspected once a month to ensure that everything in proper condition.
We carry out rescue training on a regular basis so that we can respond rapidly to any emergency situation at any time.
We also take out non-life insurance and accident insurance just in case.
By forming a team composed only of IRATA technicians We accomplish a common understanding of rescue procedures as well as thorough risk assessment, high safety awareness, work positioning methods, and carry out work safely and smoothly. 
○ Safe descent into a narrow area where temporary scaffolding cannot be assembled, perform the required work, and simply descend to the ground or ascend back to the top once finished.
○ Since there is no assembly or dismantling of scaffolding, it is possible to shorten the construction period and it is possible to carry out construction on a lower budget.
○ The presence of a redundant rope system and 2 points of connection at all times ensures safety for the technician.
○ After reaching the position where the task has to be performed it is possible to safely work with both hands via proper work positioning. In the case of overhangs and I beams (for example in factories or gymnasiums) use of the aid climbing method ensures safe moving and work positioning.
○ Rope access can be used for vertical movements and horizontal movements using the proper techniques.
○ The work is carried out after thorough risk assessment and rescue plan development so even if an accident occurs or a worker suffers from, for example, an heat stroke or other health problem a rescue can be performed promptly via rope access without waiting for external help.
---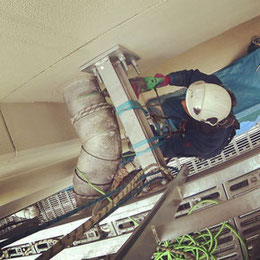 Air conditioning duct removal.
Using Aid climbing techniques it's possible to reach the correct positioning to complete the job properly even in very tight spaces.
Air conditioning piping and duct installation on a 12-stories building in Shinjuku, Tokyo.
Pipes and duct run from rooftop to indoor unit on the 4th floor. 
The access and exit point were the rooftop due to the ground level being off-limits.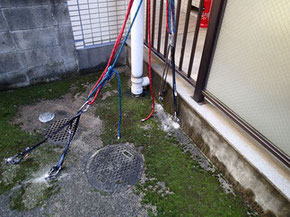 If suitable anchorage isn't available, it's possible to install new anchor bolts to provide a safe rigging location.
The bolts can be subsequently removed and holes filled.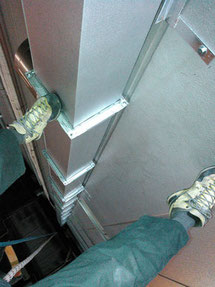 Square duct installation on an 11 stories building; from the 2nd to the 5th floor the adjacent building was only 45 cm apart.
The very narrow space presented various challenges like work positioning and the selection of the right rescue procedure in case of an accident in such a confined space.
Work performed repeating ascend and descent on ropes in 2 days.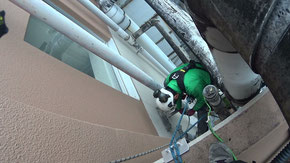 Old air duct removal and new spiral duct installation within a university in Tokyo. The narrow space with the presence of a catwalk with a lot of pipes and air ducts made scaffolding impossible, so work commenced after a thorough risk assessment and the creation of a rescue plan.
---
Clean force Japan main goal is quite simple: perform our tasks safely and efficiently, to do it we use a combination of Preliminary inspections, risk assessments and standard procedures to create a work plan and keep a safe working environment for our teams and customers.
IRATA standards are the core of our rope access procedures and in every site an IRATA lv 3 will perform the risk assessment to identify possible hazards. A few examples:
・environmental conditions (wind farms located in remote areas, high noise levels, unpredictable weather, etc.).
・structural risks (anchor points for fall arrest protection, old metal structures in industrial sites, etc.).
・human resources (the choice of the right technicians for the job and the team organization).
・emergency scenarios (rescue and site evacuation in case of extreme events)
The final work plan will provide a safe procedure to execute the job and keep the risks at a manageable level. 
---
At the request of Shinsei Kogyo Co., Ltd., we supervised the safety management of the rope access work onboard the submarine drillship "Chikyu", the only one present in Japan, four times in total, in collaboration with Shinsei Kogyo IRATA technicians.
The project was successful without any safety concerns.
---
At the request of PAT, a general incorporated association, IRATA technicians are working on the glass replacement on top of an aquarium glass dome in Tokyo.
Clean Force Japan successfully performed the rope access safety management for one month in total with no accidents.
The work was performed by Shinsei Kogyo Co., Ltd., which also handles the replacement of windows and glass panels on large ships bridges.
---
Rope access training

JIRAA certification, C to A course

Rope access safety management supervision

Rope access construction management

Construction & survey via rope access
External air conditioning piping installation and removal. Duct installation, maintenance, and removal. (various types).
External vertical drain pipe installation and removal.
Installation of various types of equipment on industrial structures, for example, a factory's ceiling light systems installation.
Concrete core sampling surveys on various sites, for example, dams or bridges.
Nature conservation work: Birds of prey nest surveys and artificial nest installation.
High-altitude photography assistance, rigging, and safety supervision.
Arborist/tree care services.
Other constructions, maintenance, surveys on ropes are possible.
We will do our best to meet the needs of our customers. Please feel free to contact us for any request.
The estimated price for rope access construction depends on the site environment, the height of the building or structure, and other factors. In principle, we will prepare a quotation after the actual inspection.
Based on the experience of rope access construction so far, we carry out construction for around 1/2 the price of temporary scaffolding.
The estimates in the Kanto area are free,
○ We are available for national and international business trips. (Separate business trip expenses)
Inquiries by phone  (Weekdays 9: 00-17: 00)
Mr. Yamasaki : 0274-64-9376 
For inquiries by email, please use the email form below.
* For inquiries about special education, please use the email form present in the training section.
* For inquiries from corporations, please include your company name, the name of the person in charge, and the department.
---
THE CLEAN FORCE JAPAN TRAINING CENTER IS OFFICIALY OPEN!
*COVID19 ALERT*
participants are invited to enter the structure after measuring the body temperature.
Mandatory facial masks for staff and costumers, social distancing when possible, use of hand sanitizer.
Sterilization of the surfaces inside the building is performed regularly.
All rescue maneuvers are to be performed using dummy dolls.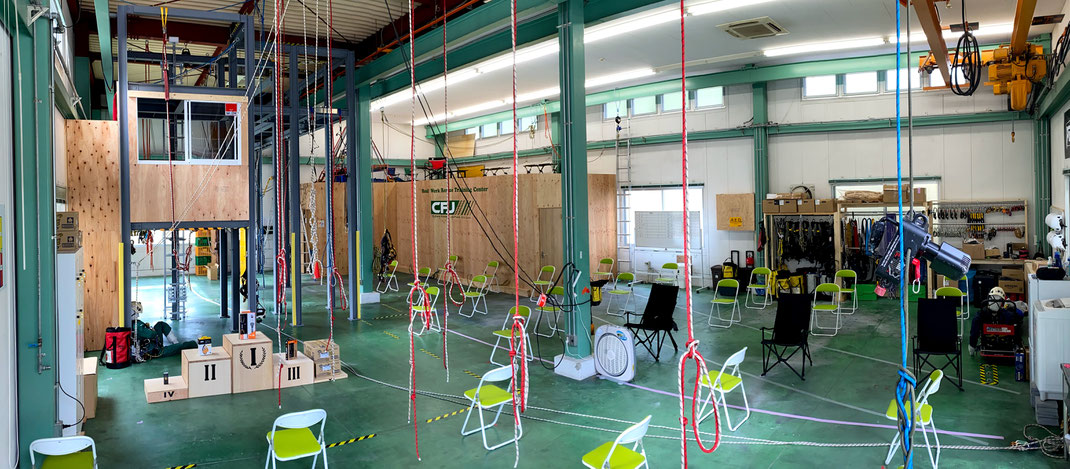 INAUGURAL COMPETITION
2020/10/24
16 participants from various Japanese firefighter teams.
Winner: Mr. O from Gunma Prefecture
2020/10/25
15 IRATA technician participants from all over Japan.
Winner: Mr. O from Fukuoka Prefecture
We would like to thank all the participants for giving their best and all the spectators that came to see the competition and learn about rope access.
TRAINING COURSES
We understand the difficulties in finding the time to participate in trainings sessions. 
For the time being we will try to make training schedules that suits everyone's convenience as much as possible.
Please feel free to contact us regarding scheduling a custom timed training session, We'll do our best to satisfy our customer's requests.
We look forward to welcoming you to our Training center!
 Please contact us by e-mail regarding corporate training, schedule, courses content, and JIRAA certification.
---
The Japanese Industrial Rope Access Association or JIRAA was born to fill the gap in between the actual Japanese rope access standard and international higher standards like the one offered by the IRATA association.
JIRAA rope access courses cover all the necessary points to be able to perform rope access safely and efficiently.
How to correctly rig ropes, slings, anchor points and 

ascending and descending on the ropes.

Perform transfers between ropes and passing knots or deviations.

How to set up a re-anchor to avoid hazards.

Rescue manoeuvres to evacuate a casualty in case of an emergency in various situations with the appropriate techniques.

How to use and inspect fall protection/fall arrest equipment.

tension line rigging and more.
These courses will teach every participant a superior and safer way to perform work at heights.
〇 JIRAA -C- course (3 days of training, 1-day assessment, 4 days in total) - BASIC
〇 JIRAA -B- course (3 days of training, 1-day assessment, 4 days in total) - INTERMEDIATE
〇 JIRAA -A- course (3 days of training, 1-day assessment, 4 days in total) - ADVANCED
ALL THE TRAINING IS PROVIDED BY A CERTIFIED JIRAA INSTRUCTOR
JIRAA certification course C to A fees:
Course fee: ¥ 15,000/day (¥ 16,500- after taxes)
Logbook fee: ¥ 1,000- (¥ 1,100- after taxes ), one time only.
assessment fee: ¥ 25,000 (¥ 27,500- after taxes ), including registration fee and JIRAA card issuance fee.
*All prices include training centre facilities usage and insurance fees.
*JIRAA training and certification are available only to the Japanese firefighters and emergency rescue association at this moment.
We are sorry for any inconvenience.*
Rope access training for the Japanese Special Aerial Work license is available to anyone interested and consist in a 1 day course to obtain the mandatory license to perform rope access work in Japan. The manual and infographics are available only in Japanese language been this a specific license for the Japanese regulations. 
Once the Basic mandatory training is completed more advanced courses are available like: advanced rope access training, basic rescue training, advanced rescue training with scenarios simulation etc.
Refresh rope access training and self-training under the supervision of our staff is available for rope access certified technicians,  rescuers and firefighters, IRATA technicians.
Contact us via e-mail for more info on schedule and booking at:  y.sumiyoshi@cleanforcejapan.org
Name:     Clean Force Japan Co., Ltd.
                 Real Work Rescue Training Center
Address: 247-1 Fujiki, Tomioka City, Gunma, Japan
                〒370-2307
Enter the warehouse district from the prefectural road and proceed along the river.
The innermost warehouse is our training center.
Email: y.sumiyoshi@cleanforcejapan.org
Telephone: 0274-64-9376
---
2003 - Established "Clean Force" as cleaning company.
2008 - Started Air conditioning equipment construction and maintenance.
2010 - Started external plumbing work for air conditioning installation and maintenance via rope access.
2012 - Started various construction projects via rope access after obtaining  the IRATA rope access license.
2017, February 17th - Incorporated as Clean Force Japan Co., Ltd.
2020, October - Moved the head office from Itabashi, Tokyo to Tomioka, Gunma.
2020, October 24th - CFJ Real Work Rescue Training Center inauguration.
Qualification:
IRATA International License Level 3.
IRATA regular training instructor  ( N:  3/58304/i ).
Technical Construction Climber.
Technical Tree Climber.
Type 2 electrician.
Type 2 post-construction anchor builder.
Gas welding.
Rope aerial work - Japanese license.
Rope aerial work special training provider - Japanese license.
Others.
CleanForce Japan Co., Ltd. Office and training center location:
〒370-2307
274-1 Fujiki, Tomioka City, Gunma Prefecture
TEL 0274-64-9376 / FAX 0274-64-9378
Representative Director Mr. Yamasaki Sumiyoshi
---